About Us
Viamaster Training
As part of Viamaster Logistics Group with transport, warehousing, international and training operations, we have over 50 years of training experience in the transport and logistics sector.
Experts in Training
About Us
At Viamaster Training, we are dedicated to providing high-quality training solutions for individuals and organisations in road transport, logistics, and health & safety. With 50 years of experience and a team of expert trainers, we strive to equip our clients with the knowledge, skills, and certifications required to enhance their specialist abilities.
Our comprehensive range of courses covers an array of areas including LGV driver training, forklift operations, transport management, dangerous goods handling, and health and safety training. Whether you are a beginner looking to start a new career or an experienced professional seeking to enhance your skills, our courses are designed to meet your needs.
50 Years of Training Experience
We understand the needs of the transport and logistics business and will work with you to ensure the minimum of disruptions to your operations. We are a DVSA accredited centre and are registered on the Apprenticeship Provider and Assessment Register (APAR) as a supporting provider for Transport and Logistics apprenticeship training. We are partners with a number of Awarding Bodies within our sector.
We have invested in modern reliable quality training vehicles, our trainers are employed by us, not self employed as sub contractors, they are highly qualified and experienced, our training facilities are purpose built, our industry knowledge second to none.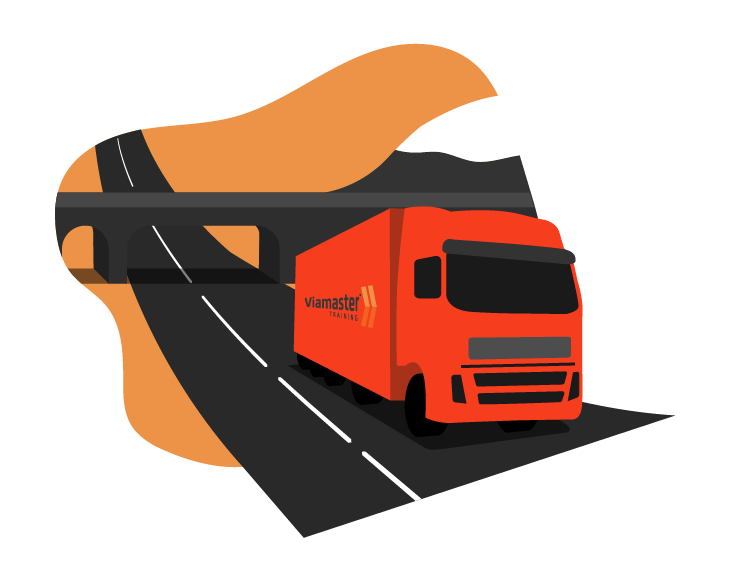 Viamaster Training
Training & Courses
At Viamaster Training, we offer a diverse range of courses designed to equip you with the necessary skills for success in the transport and logistics industry. Our comprehensive courses cover a variety of areas, including:
Viamaster Training
Testimonials
Our courses have helped many achieve career goals in transportation and logistics. See what they have to say about Viamaster Training:
My thanks to everyone at Viamaster - but particularly John and Lizzi - who have been thoroughly professional and extremely supportive, enabling me to obtain my HGV licence. I would recommend this company to anyone who is interested in starting or furthering a career in logistics.
10 Day Novice Instructor Training. I'm going to start with a massive thanks to Steve and his team for making myself and the other trainees so welcome. I personally was not looking forward to this course, having done this course over 10 years ago, the thought of lesson plans and power point presentation gave me sleepness nights. But from day 1 my thinking started to change. Steve's training techniques are second to none. In my opinion you will struggle to find a better instructor out there. Steve and his team built the confidence up on all of his trainees over the 10 days. And come the end of the course we all failed ? just kidding, it was a pass all round. The legends 100% record continues. Thank you to all at viamaster and best wishes to you all.
Did my training at castleford viamaster, with Phil as my trainer, immediately there was no pressure, I could chill out and have a laugh. However the high standard and completeness of the training was reassuring, so I always felt confident of passing with my trainer.
I'm proud to share that I've successfully completed my RTITB instructor course. Viamaster trainer Steve demonstrated exceptional knowledge in the 2 week training course. If you're looking to upskill, then I fully recommend Viamaster in Castleford as your training partner of choice.
like to say went here for my training and couldn't ask for a better bunch off people my trainer archie was excellent from start to finish he a credit to the company! thank you excellent work
Would highly recommend viamaster for your hgv training i recently passed my c+e through them Andy my trainer was fantastic and really helped me get through the test while my nerves were high put me at ease I am really greatfull for the patience he had with me fantastic trainer.
Spencer Faithfull
03/03/2023
Dear to who is/are interested becoming a wearhouse driver/Lorry driver,I spent a week learning and and training in Class One HGV in December 2022 and another week doing forklift in February 2023. I passed both of the courses in a smooth and straight way.Viamaster did a perfect job and helped me to grain my licences and took good responsibility. My coach Richard (for Class One HGV) and Karl (for Forklift) are always calm whenever they are answering my questions and listen to me. Even with my deafness with implants.To me. Viamaster did brillant equal to 10/10. They do look after their customers and plans organiser. The environment of Viamaster is really the top of the class that everyone should go and learn to train any warehouse's and large size's vehicles in there. So clean in the area and plenty of good cups of hot chocolates.That's not all, a wonderful Lizzy who helped me with my bookings through emails and phone calls to make everything in sense of Viamaster's company. Once I passed, the full neat certificates and licence comes into my email and post in a good smooth time within three days.Really please about Viamaster. They are ace.With my regards, Spencer Faithfull
I recently passed my C+E with these guys and the experience was totally professional and enjoyable, with a structured and relaxed approach to training they totally put me at ease and gave me the knowledge and confidence needed to pass first time
Viamaster Training
Recent News
Stay up-to-date on our training courses, industry requirements and changes in legislation concerning transport and logistics!